Last Updated on September 28, 2022
We've invited Donald Chan of MarTech Wise to share his experience of switching from page builders to Gutenberg for his SEO agency's website. Learn about what motivated his team to switch and how they did it.
When Gutenberg was first introduced as the default content editor with WordPress 5.0 in December, 2018, there was some apprehension among users about the ease of use and intuitiveness of the editor.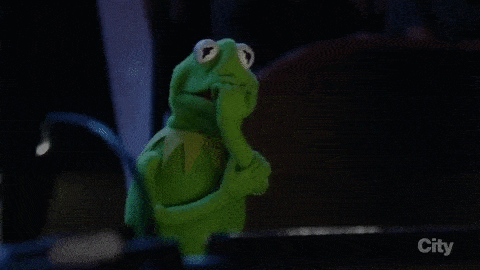 Such fears proved to be unfounded with time and successive releases which showed steady improvements.
As of this writing, the current version 10.5.4 is not only highly usable, the entire Gutenberg ecosystem is growing fast, with new premium blocks continuously making a splash with users.
In 2021, my company staff and I have started embracing Gutenberg in a bigger way 🙌.
In fact, it has become one of the key editors in our web page building and design.
In this blog post, allow me to share with you some of my considerations for using Gutenberg.
Gutenberg continues to improve and show promise as the future of WordPress
While full site editing is still some time away from release at the time of this writing, I have confident expectations that any new developments with the editor will usher in a new world of possibilities for Gutenberg.
In the last few years, we've seen a number of page builders come to the fore, most notable among them being Elementor and Beaver Builder.
In fact, in our web design agency, we've been relying heavily on Elementor in our website builds for several years now.
The choice of Elementor made the most sense for us, because it has helped us to achieve the website builds we wanted in a fast and efficient manner.
However, as we look to an ever-changing future web design landscape, I believe it's important for agencies and professionals in this field to future proof ourselves.
In our case, this meant diversifying our website build process with Gutenberg.
With the continued fast-improving functionality of Gutenberg and its ecosystem, I believe that many in the industry will begin adopting the editor as one of their main website build processes.
For us, we see our adoption of Gutenberg as complementary to our current Elementor website build process.
In fact, as we used these two editors, we have begun to see numerous opportunities in using both Gutenberg and Elementor selectively on different parts of the same website project.
Page speed as a ranking factor
Google recently announced that page speed will become a ranking factor, especially for mobile pages, and this is expected to take effect sometime this year.
The original date was set to May but it's been pushed back to give web developers more time to prepare for this major change.
There's been speculation on how important website load speed will be as a ranking factor.
Here in the SEO agency I run in Singapore, we've discussed this matter at length among my staff. My personal view is that it will initially start off as a lesser ranking factor and steadily grow in importance over the years.
My thought process is that faster loading websites can help improve user experience and Google wants to encourage users to surf and use the worldwide web more.
So, it makes sense they would increase the weightage and importance of website loading speed as a ranking factor over time, although content and backlinks would still be key factors.
In a recent interview, Google staff have shared that the ranking boost provided by the new page speed update is more a 'tiebreaker', which means where two sites are equal in the search engine's eyes, page speed then becomes a deciding factor.
For us, we see Gutenberg – with its cleaner code structure – as the means to achieve a faster website load speed and performance.
We shall be keeping a close watch on the development of the Gutenberg ecosystem and hope that it won't go the way of code bloat as developers continue to push for new features.
To recap, Gutenberg's continuous improvements and Google's recent drive for making page speed a ranking factor are the two main reasons we are switching to using Gutenberg in our website build process.
It is our understanding that such a switch will take some time, especially for those who have been used to using page builders, so we started by rebuilding some of our own websites using Gutenberg.
Let's take a look at how we did it.
How We Made the Switch To Gutenberg
The first website wherein we initiated the switch to Gutenberg was MarTechWise.com, our software reviews website.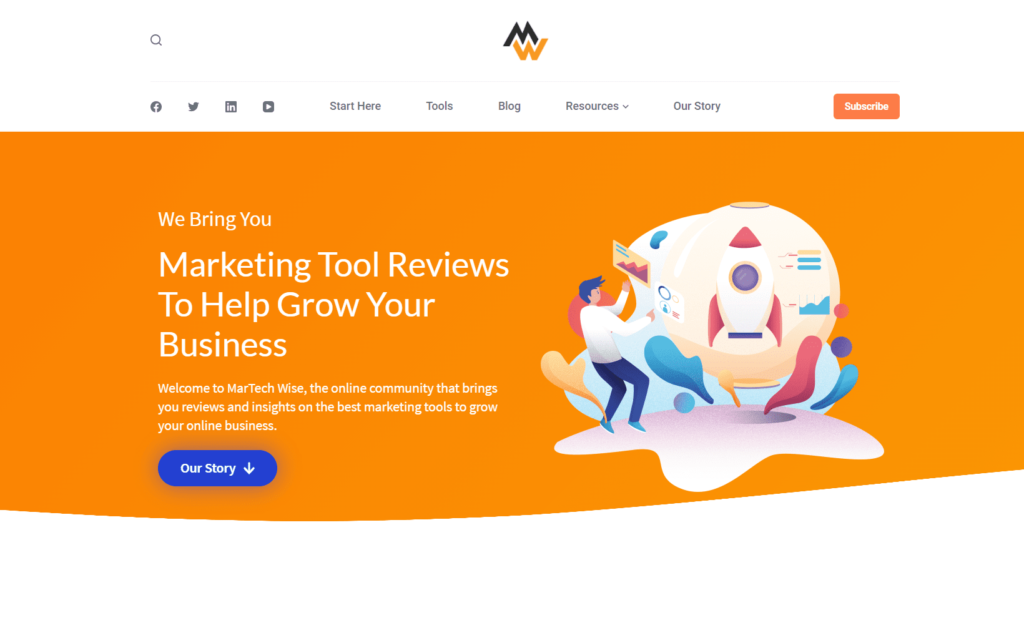 In many ways, this was the ideal site for us to get started with using Gutenberg.
This switch enabled us to test out many of the ideas we had for Gutenberg. Because website load speed is set to become a ranking factor, we believe the switch to Gutenberg will benefit our search rankings in the near future.
For our MarTech Wise website, we used the Blocksy theme and Stackable Gutenberg blocks to achieve what we wanted.
Here are some of the key highlights:
Redesigning key pages using Stackable blocks
One of the key aspects we enjoyed about using Stackable blocks was the comprehensive block design library, which we could leverage to build layouts faster.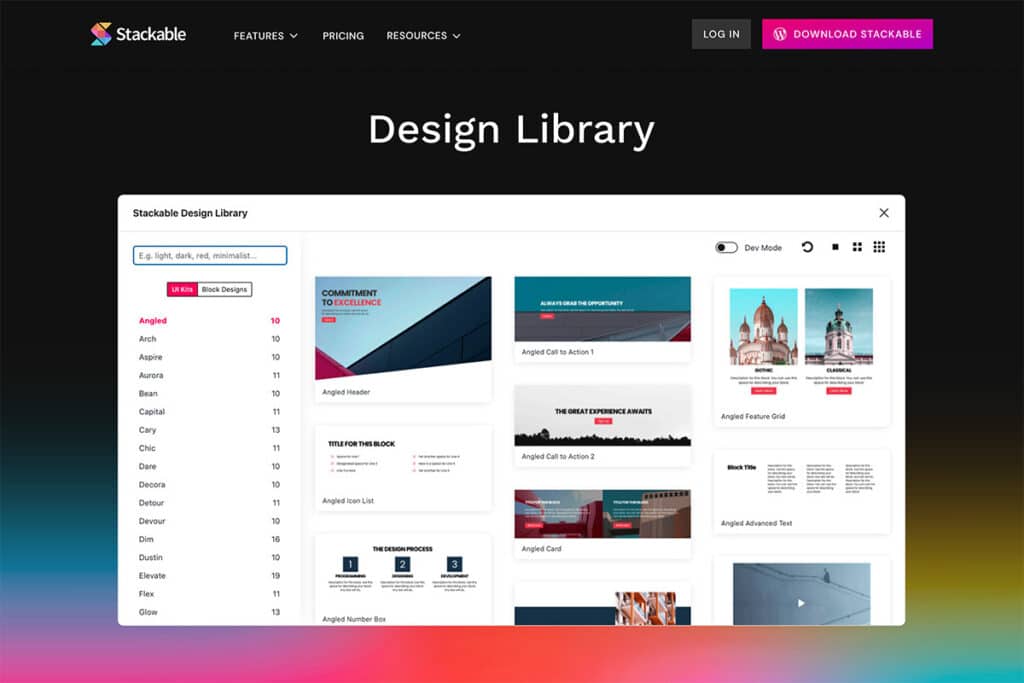 In addition, the Blocksy theme which we switched to was fully integrated with Stackable, and came with starter site layouts built using Stackable blocks too.
Using Stackable's Blog Posts block to set up topic clusters
With MarTech Wise being primarily a content site, we needed a way to showcase our recent posts in topic clusters. This was important both for presentation and user experience, as well as SEO and topic relevancy.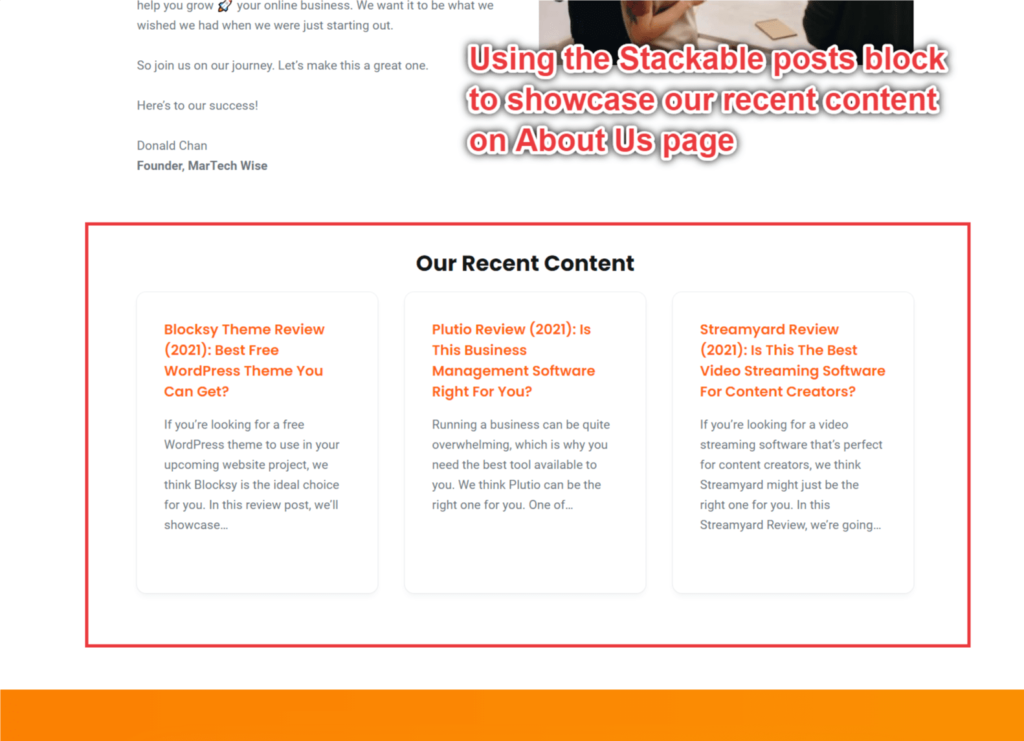 Using Stackable's Feature block with ACF integration to create dynamic review features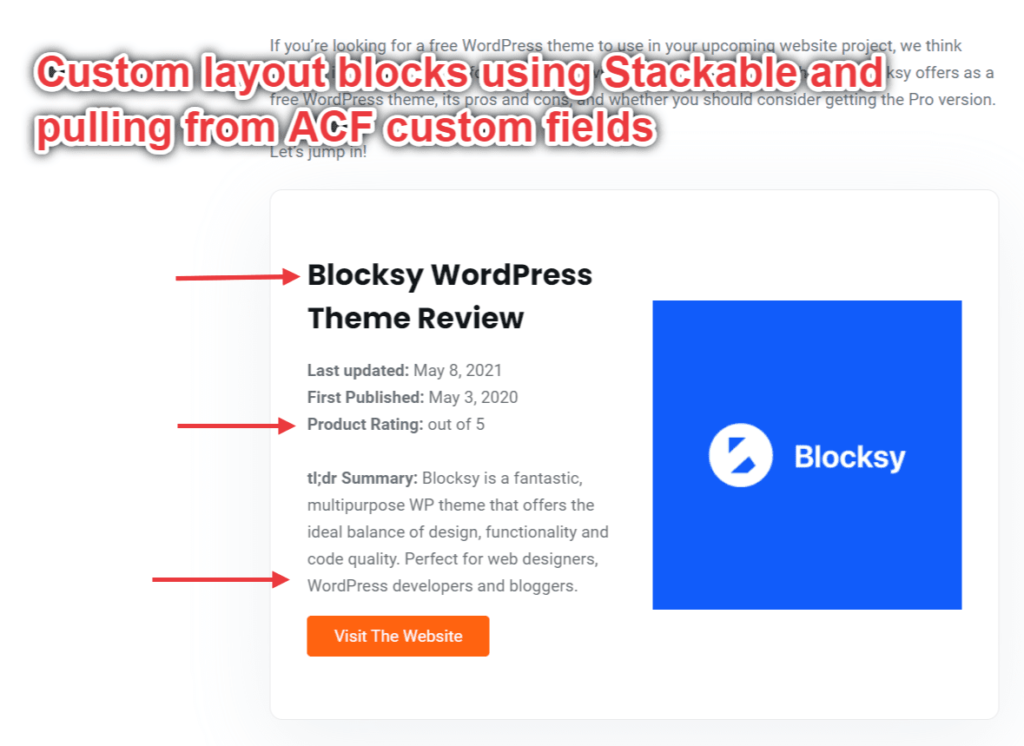 Finally, we were also able to make use of one of Stackable's most recent features, integration with Advanced Custom Fields (ACF).
We use quite a fair bit of ACF in our website projects to dynamically insert content, so it was great that the latest version of Stackable blocks provided us the ability to do so in our custom layout blocks and groups.
Gutenberg Is A Journey, Not A Destination
Overall, the experience of rebuilding our own website in Gutenberg provided us with the confidence to start adopting Gutenberg more readily in our other projects.
In our view, Gutenberg adoption is not a destination in our web design process, but rather a continuous process which will evolve as the ecosystem develops and matures.
We also see it as another way for us to build high performing websites for our clients.
In the meantime, we'll be leveraging Gutenberg more extensively for the other websites in our portfolio, such as WebAgencyWise.com.
So how has your experience switching to Gutenberg been? Has it been a smooth transition so far? Let us know in the comments below.